Project Founded by Wittenborg Graduate Helps Young Nigerian Football Players
Olumide Omotoso Donates Shoes and Inspires Youngsters
For over three years, Nigerian football player, Wittenborg graduate and entrepreneur Olumide Omotoso has helped disadvantaged children and youngsters from his home country, aged between 8 and 22, to pursue their dreams of playing football. Omotoso, who lives in Apeldoorn and plays for Victoria Boys, is founder of a social project that collects donations of shoes and distributes them among Nigerian organisations, such as football clubs, non-profit institutions and orphanages.

A New Year Message from the President of Wittenborg University of Applied Sciences
https://www.wittenborg.eu/new-year-message-wittenborg-celebrates-its-35th-anniversary-2022.htm
It's that time of year again, when our New Year's message gets published. It's normally based on the speech that I give at the annual new year's staff and relations dinner, which again didn't happen this year due to the pandemic. Student events have also been cancelled and it almost seems that 2022 has started where 2021 left off, with regard to the pandemic.
However, I'm more optimistic and can see an exciting year ahead, and I think that in this respect 2022 will bring us a much brighter and more relaxed year, with less focus on what trouble Covid19 is causing us and more emphasis on other important matters – including many of the issues covered by the Sustainable Development Goals, that Wittenborg has committed to encompassing in its curriculum, including those covering the environment, but also peace, justice and strong institutions (#SDG16). Wittenborg's values of #Internationalisation, #Diversity and #Ethics will remain the centre of support for the school's mission in 2022.
Why Studying Economics Can Help Prepare You For an Ever-Changing World
https://www.wittenborg.eu/why-studying-economics-big-deal-business-students.htm
Many people think that economics is a boring and dry subject and should be left to people who love to read books. But the truth is, economics provides you with an understanding about people, businesses, markets, jobs and governments. Knowing these helps you to better respond to emerging threats or opportunities in an ever-changing world, especially if you are a business student. For example, when the world plunged into lockdowns due to COVID-19, many governments scrambled for ways to prevent economic meltdown. But business people who understand economics can turn this threat into opportunities and improvise new ways of doing businesses to stay afloat.
Hybrid Workshop Features Founders of Biu!Tea
A group of Wittenborg students had the opportunity to learn more about entrepreneurship from Yishi Huang and Chaw-Ming Lee, the two founders of Biu!Tea, a successful Amsterdam-based bubble tea shop that started its activities during the COVID-19 pandemic. On 14 December, Huang and Lee participated in the hybrid workshop "Opportunities and Challenges: Start your Business in the Netherlands (A Case Study)". The event was attended by 31 students, out of which 15 were physically present and 16 participated online.
During the activity, the entrepreneurs talked about Biu!Tea's trajectory and how they have managed to thrive during the pandemic, to the point of opening two more shops in Amsterdam. Moreover, they also discussed other topics such as how to identify market opportunities, principles on which to select key business partners, ways to deal with financial problems and how to define marketing strategies.
According to Wittenborg's Support Office & External Relations Coordinator, Xiaoli Wu, who was responsible for organising the event, the workshop was inspiring and provided the students with the chance to learn from the insights of experienced professionals.
The History of the Spoorstraat Location
In the summer of 2015, Wittenborg opened its new location at 23 Spoorstraat in Apeldoorn. The building, which was carefully but extensively renovated by Wittenborg, dates from 1920 and is, therefore, classified as a historic building. As part of Geheugen van Apeldoorn (Memory of Apeldoorn), a digital platform started by the municipality of Apeldoorn to make the city's history more accessible to all, a text was written about the history of the building. What follows is a translation of the Dutch text written by Carmen Luttikhuis, which can be found here.
From Catholic Boys' School to International Business School
The Roman Catholic St Gerardus Majella school on Spoorstraat started in 1920 as a boys' school. The school, which taught boys from working class, middle class and fairground families, was also called the 'clog school', after the simple footwear the students wore.
Wittenborg Builds 75 Studio Apartments on De Ruyterstraat
In order to further develop and expand its services in a time plagued by housing shortages, Wittenborg is building 75 new apartments for international students in Apeldoorn. The apartments, which will be built by the construction company Weever Bouw, will be located on De Ruyterstraat, close to the city centre as well as to Amaliapark. With an area of 18 square metres, each apartment will be a studio with its own bathroom and kitchen. Additionally, all units will be sustainable and energy-neutral.
The fully furnished apartments will be partly furnished in cooperation with Foenix, a local initiative focused on providing jobs for people with poor employment prospects by, among other things, operating a number of second-hand stores across Apeldoorn.
As Wittenborg's CEO Maggie Feng says: "It would maybe be easier, even cheaper, to buy 75 new sets of everything, all with the same colour and shape, but second-hand items have a story, they have lived a life. Tiny pieces of the stories of Apeldoorn and its people will be welcoming the students to their new home. On top of that, it is more sustainable."
Feng, furthermore, highlights the role Foenix plays in Apeldoorn, adding that Wittenborg is glad to support its mission.
NSE 2022
The next edition of the NSE - the National Student Survey (Nationale Studenten Enquête) -starts tomorrow (17 January) and will run until 13 March.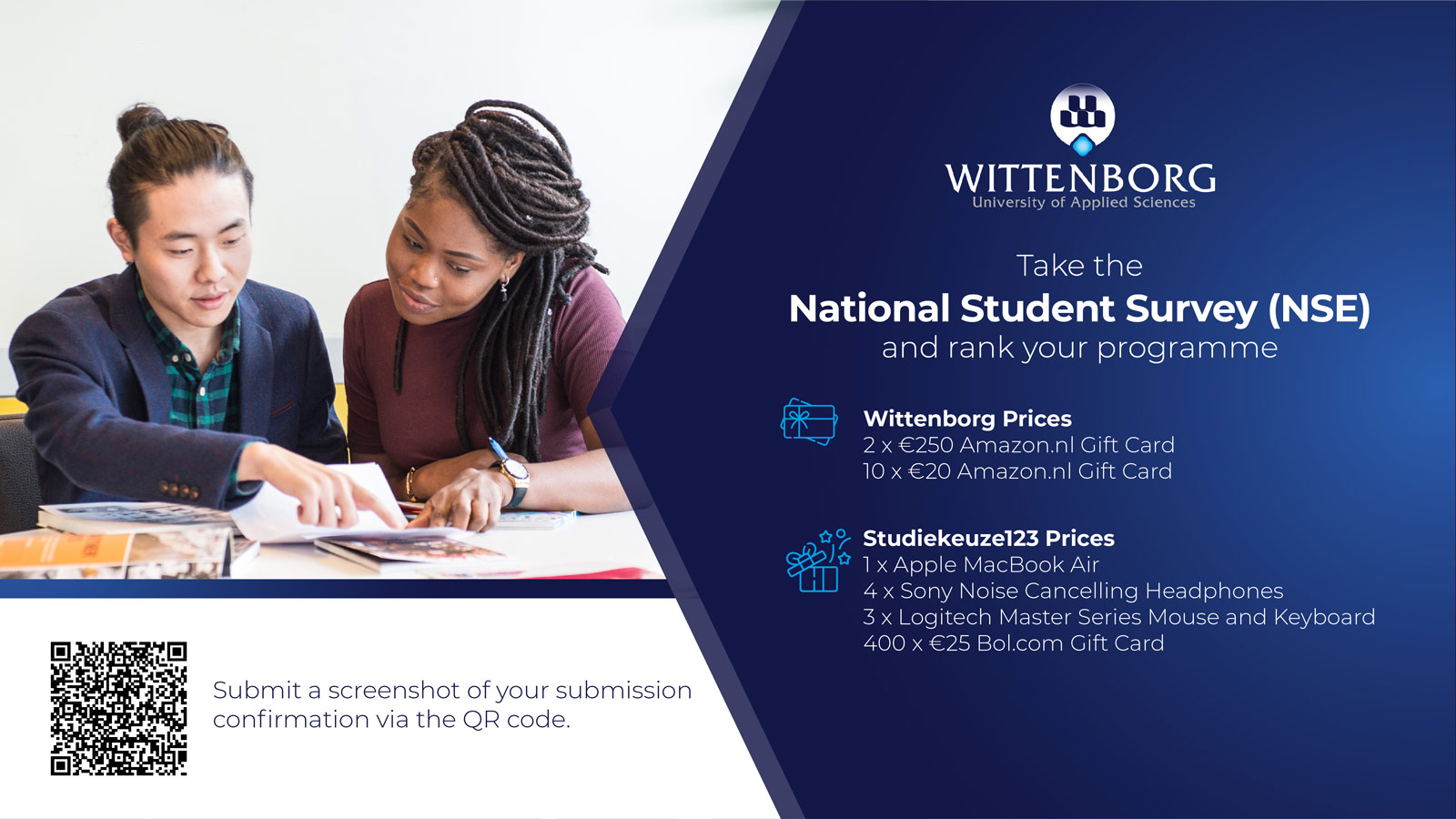 The National Student Survey, or NSE, is a nationwide survey researching students' satisfaction with the higher education course they pursue in the Netherlands. Nearly all students in Dutch higher education are invited to participate every year. The survey is conducted by Studiekeuze123, on behalf of the Dutch Ministry of Education.
Students are asked to fill out a questionnaire on various aspects of their course programme, including its content, the skills they acquire, how well they are prepared for a career, the lecturers, the information and materials provided, the study facilities offered, testing and assessment, their programme schedule, study load and academic guidance and counselling.
As Peter Birdsall, Wittenborg President & Chair of the Executive Board says:
With the goal of helping children of immigrant families improve their English and better adapt to the Dutch educational system, Wittenborg University of Applied Sciences senior lecturer Amy Abdou is conducting a project in partnership with Buurt Talent Ontwikkeling (BTO), a homework support programme based in Amsterdam Zuidoost. Through the initiative, two Wittenborg MBA students and two Vrije Universiteit Amsterdam students participate in weekly one-hour sessions with 20 children between 10 and 12 years old.
The activities include word games, charades and discussions on different topics related to the children's lives. Recently, the project received the donation of 50 English-language children's books, after Abdou published a post on her LinkedIn profile asking for contributions. The books were given to the kids as Christmas gifts and, in the near future, the material will be used for reading activities.
Dijkgraaf Has International Career as Scientist and Professor
Well known Dutch Professor, Dr Robbert Dijkgraaf has become the Netherlands' new Minister of Education, Culture and Science, and was inaugurated on 10 January. He will serve in Mark Rutte's fourth government. Dijkgraaf, who is a member of the D66 party, is a professor of theoretical physics at the University of Amsterdam and former director of Princeton University's Institute for Advanced Study. Previously, he was president of the Royal Netherlands Academy of Arts and Sciences (KNAW).
Born in Ridderkerk in 1960, Dijkgraaf obtained his doctorate in Physics from Utrecht University in 1989, under the supervision of Nobel laureate Gerard 't Hooft. His research focuses on the interface between mathematics and particle physics. Among other honours, Dijkgraaf received the Spinoza Prize (2003), the highest scientific award in the Netherlands, and is a Knight of the Order of the Netherlands Lion. He is also interested in painting, which he studied at the Gerrit Rietveld Academie, in Amsterdam, between 1983 and 1984.