Amro Abbas Plays as Defender for Sudanese National Team
The new year has started on a high note for Amro Abbas, who is about to obtain an HBA degree in Sport Business Management from Wittenborg. Before attending his graduation ceremony in February, Abbas will be playing for the Sudanese national football team at the Africa Cup of Nations, which will take place in Cameroon between 9 January and 6 February. The Sudanese team will be based in Yaoundé, and its first match will be against Guinea-Bissau, on 11 January. The group also includes the teams of Egypt and Nigeria, which have participated in former editions of the FIFA World Cup.
The Significance of Internal Quality Assurance in Higher Educational Institutions
https://www.wittenborg.eu/fruitful-sharing-knowledge-across-geographical-boundaries-iqainar-virtual-meeting.htm
Internal Quality Assurance (IQA) within higher educational institutions (HEIs) has been a most significant topic in recent years as stakeholders expect graduates to be sufficiently equipped to meet job requirements in this modern, technology-ridden world. This presupposes that sufficient IQA mechanisms need to be designed and implemented by HEIs, whether in developed, developing or under-developed countries.
Kavindya Samarakoon Is Ingenico's New Dispute Manager
Having just completed a BBA (Bachelor of Business Administration) in Marketing Communication & Information (MCI) at Wittenborg University of Applied Sciences, Kavindya Samarakoon from Sri Lanka has already managed to land a job in the Netherlands.
According to Samarakoon, who has been hired as a dispute manager for international e-payments company Ingenico, the fact that she studied at Wittenborg stood out in the eyes of recruiters due to Wittenborg's focus on diversity and internationalisation.
"Global companies really value professionals who have experienced diverse environments, where they learn how to accept and respect other cultures and work with people of different backgrounds. One of the reasons why I chose to study at Wittenborg was the possibility to interact with so many different nationalities," she says.
Lena, who will Be Pursuing a New Venture, will Be Missed by Wittenborg Colleagues
After five years of fruitful collaboration, the Wittenborg family says goodbye and wishes the best for International Partnership Manager Lena Vandenbosch, who will be pursuing a new venture in the consumer goods industry from now on. Lena, who was born in the Netherlands but has also lived in Australia, New Zealand, Mexico and Spain, obtained a master's degree in International Business from the University of Maastricht and also completed an MBA degree at IE Business School, Madrid. Prior to joining Wittenborg University of Applied Sciences, in January 2017, she already had a long track record in the fields of sales & marketing and higher education.
At Wittenborg, Lena was initially a Sales & Marketing Officer before becoming the institution's International Partnership Manager. In this role, she supported the recruitment of international students through a network of representatives from all over the world. Besides that, she was an active member of the Events team and collaborated with the Marketing team in the creation of promotional materials and content for the website.
Students Find Creative Way to Have Christmas Party in Times of Corona Measures
A group of Wittenborg University of Applied Sciences students found a creative and fun way to have a Christmas party, despite the COVID-19 measures currently in place in the Netherlands. After Wittenborg's traditional Christmas celebration for staff and students had to be cancelled, students Luuk Ornstein and Isaac Pattison had the idea of organising an online quiz competition on the same date the event was planned to happen, 16 December.
To promote the "Kahoot quiz party", Ornstein and Pattison were helped by Support Office & External Relations Coordinators Xiaoli Wu and Sophia Faraji, who sent out an invitation by email to all of Wittenborg's students. In total, the activity had 21 participants, who played individually against each other. The quiz featured 49 trivia questions on a number of subjects including Wittenborg-related topics, Dutch history and geography, general knowledge and entrepreneurship.
Graduation Assignment Topics of WUAS Students Align with UN's Sustainable Development Goals
In line with the adoption of the United Nations 17 Sustainable Development Goals (SDGs) by Wittenborg University of Applied Sciences, many WUAS students have chosen to do their graduation assignments on topics related to sustainability and environmental issues. Recent graduates Julian de Boer, Iman Janani and Bolun Li have all approached these fields from different angles in their researches. To read more about Wittenborg's inclusion of SDGs in its curriculums, click here.
Wittenborg's President Peter Birdsall - a Christmas Message 2021
Our festive season of Christmas, at a time when the days are short and the nights are long, is normally a moment of reflection. A time to look back and prepare to 'close' the year. 2021 was not at all a bad year – many of us rose to new challenges, many of us started a new study, or new projects, and many of us graduated. Some of us started new families or added new life to them. Some of us lost loved ones or were challenged by sickness.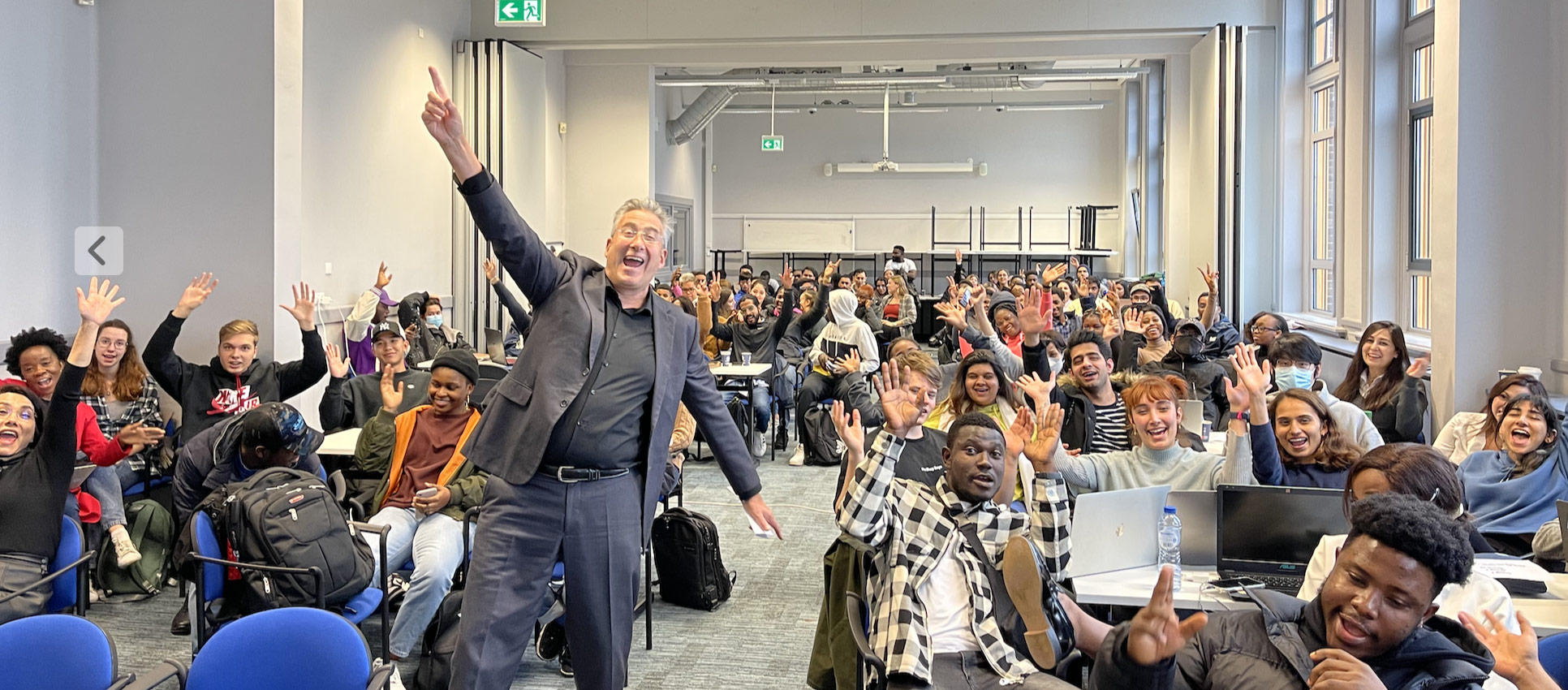 Wittenborg Conducts Project Week in Partnership with ReachOut Foundation
To provide a group of Wittenborg Amsterdam students with practical skills and a real-life experience in the field of social entrepreneurship, Senior Lecturer Andreas Ooijer conducted a bachelor's project week in partnership with the ReachOut Education Support Foundation.
The activity took place between 29 November and 17 December, and involved 20 students from the bachelor's in Entrepreneurial Business Administration (EBA). A related project week was developed simultaneously in Apeldoorn for three programmes: Marketing, Communication and Information (MCI), Hospitality Business Administration (HBA) and International Business Administration (IBA).