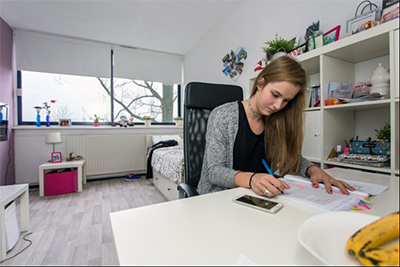 The Dutch parliament (Tweede Kamer) has accepted a motion calling for the government to facilitate a new action plan dealing with housing for international students in conjunction with other stakeholders, Nuffic reports. The Netherlands is welcoming record numbers of international students to its shores, but the densely populated country has fallen short of finding accommodation for all.
In the meantime, the new minister of higher education, Ingrid van Engelshoven has urged universities and other institutes of higher education to take the lead in ensuring international students have housing by working together with municipalities and other stakeholders such as housing agents.
Unlike many institutions in the Netherlands, Wittenborg has always provided all its international students with accommodation for the first few months upon arrival to make sure they are not left stranded. With student numbers set to top 700 in 2018 it has also recently started investing in property earmarked for student accommodation.
The motion for a new action plan was submitted by members of the political parties Groenlinks (Green Left) and the SP (Socialist Party) to the Dutch senate in October last year. This week it was finally accepted.
Their appeal came after the Dutch student Union, the LsVB, called on universities, municipalities and housing corporations to do more in providing decent accommodation for incoming international students in the Netherlands. "Hundreds of international students still did not have housing at the start of the academic year. They are forced to sleep in hostels, in camp sites or even in their cars. Some abandon their studies," a press release from the LsVB at the time read.
Source: ScienceGuide
WUP 17/12/2017
by James Wittenborg
©Wittenborg University Press